Recently, I came across some problems about using Carlinkit 4.0, I had thought that it would take me a long time to get it solved, but the support team in the bleow website really solved my problem promptly.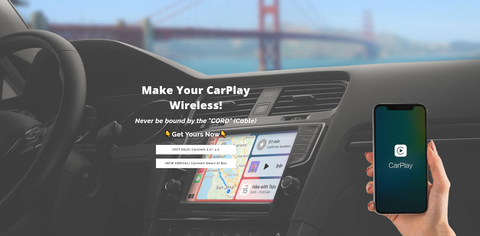 I had some bad experience in purchasing and using other digital products from those common shopping sites, so I didn't expect that I can get good feedback this time promptly. But to my delight, the staff really gave me good solutions this time to get all my problems solved.
Actually, I have a Samsung Galaxy S8 Android phone. After I bought the carlinkit 4.0 from this site,carlinkitcarplay.com, following the instructions of the manuals to connect the adapter correctly to the car's USB port (the car is a 2022 Hyundai i30 N-Line Premium sedan), I found a problem. Even though Carlinkit 4.0 was connected to my Android phone and running the Android Auto app, my car's system still recognized my phone as Apple Carplay and went full screen instead of Android Auto screen.
Since my Android phone was recognized and displayed as Apple Carplay, the icons and screen displayed on my car's infotainment system were stretched, that was because Apple Carplay used the entire screen, but Android Auto doesn't.
So I kept on asking him to explain to me how to get Carlinkit 4.0 to connect to my Samsung Galaxy S8 Android phone and got it worked? Because the reason why I bought carlinkit 4.0 for its compatibility with Android Auto. At this moment, it doesn't seem to recognize my phone as Android Auto. Admittedly, I was also a little wary of whether it would work. But actually, I found I overstated the difficulties, the technical support team gave me some detailed instructions, eventually,all my problems were solved.
The first question they confirmed with me was that whether my android phone supported wireless android auto, if there was a switch for its wireless android version, they needed me to take screenshots for them.
When connecting the wireless Android auto, they kept asking me to turn off the WIFI and bluetooth of my iPhone, which allowed me to plug it in the USB directly to connect to the wired Android auto, when I confirmed that the wireless Android auto could not be connected, they made the second query about whether the mobile phone supported wireless Android auto and whether there was a wireless switch, if not, then I couldn't use wireless and I could only use wired adapter.
When I used the wired adapter, I need to ensure that the USB data cable could be supported with data transmission.
So when I finally viewed the few suggestion from the technical support team, I started to check the configuration of my mobile phone and I finally found that the device and version built in my Samsung hand did not support wireless Android auto, there was no wireless switch, so I couldn't use carlinkit 4.0.
After that, I switched back to use my iPhone to connect the dongle, carlinkit4.0 .
To my surprise, when I turned on wifi and bluetooth of my phone and paired it with the adapter,everything worked as it did when I plugged in my iPhone to my car's USB port,The only perceivable difference is that CarPlay started up a little more slowly than with a wired connection, but all my problems were solved perfectly, so the compatibility and version of a mobile phone indeed affected the connection of the adapter, that is the problem I didn't perceive before.
In order to make our driving experience more entertaining and enjoyable with a user-friendly device, the most important thing we need to know is the compatibility, it is important to note that Carlinkit won't add CarPlay to a car that doesn't already support it. Although Carlinkit 4.0 here works for a wide variety of makes, models, and model years that already support CarPlay, but there still exist some versions of smart phones, whose configuration don't support the use of device, carlinkit 4.0.
Therefore, I highlight the products and services I get from the technical support team support@carlinkitcarplay.com, you might find it interesting to get all the problems solved.