Are you tired of plugging in your phone in the vehicle for many times? If you are fed of disconnecting and connecting the cables again and again, here comes an extremely practical product, carlinkit 4.0, a new adapter issued in 2022, it can solve the connection issues easily.
It looks great when I'm not touching the screen and it indeed works well with both Android and iPhone. Most problems I came across in driving can be easily tackled. After a lot of looking I picked the Carlinkit 4.0 in https://carlinkitcarplay.com/ , it is indeed a great little device, small sleek design with multiple functions such as plug and play, no need to take the extra step to plug it in, it can sit in your pocket. Or, if you leave the phone in a bag, you don't have to fish it out, sounds pretty practical, right?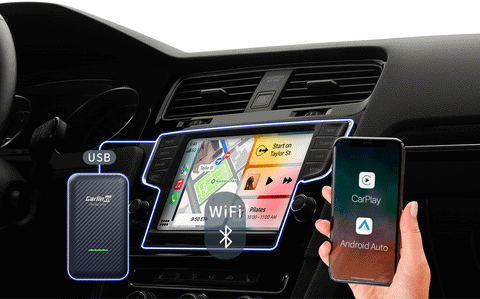 There are five Scenarios for you to figure out the pros of Carlinkit 4.0. 
Scenario one: Save your time and energy
It takes about 10 seconds after switching the car on to boot up and runs smoothly. Although it's only had one moment of lapse since owning it,but when I get it simply unplugged and plugged back,then it works again without any problems later. The hand-off between Bluetooth and Wi-Fi was seamless and once the connection was made, it was rock solid,it means that the connection is 90% good at all time.
Since I got the car and I have been searching for a wireless way to connect with Car play in an easy way, this gadget helped me with a smooth and quick (Wireless) connection. Very Easy installation and software preparation, I've been trying the device for about 3 weeks and never had loss the wireless connection, so it's a very cost-effective product.
Scenario two: Optimized space allocation
Carlinkit 4.0, actually, this dongle is very small and light, so setting up is extremely easy, also the audio input is pretty good.
Regarding the weight,there isn't a lot to unpack for the CarlinKit. Inside is the CarlinKit adapter and a short USB cable,it is used to connect the adapter to the CarPlay USB adapter in your car.The CarlinKit dongle measures a mere 1.8" x .47" x 3.15" (46 x 12 x 80mm), and weighs just a few ounces,so you can pack it in your pocket without worrying about sliding out.
Scenario three: Got appropriate solutions and fast response from technical support team.
If you encounter problems like vehicle compatible list, how to choose phones and get phone connected wisely, how to rest product, how to upload the log,voice or multimedia sounds lag, Google maps or Waze delays while navigating, dongle connecting problem, online firmware update tutorial etc, aiming at these commonly problems, the technical support team will give you the fast response right away.
Scenario four: enjoy good after-sales service.
The store offer service for items purchased from carlinkitcarplay.com. So if you buy Carlinkit products from other websites(e.g., Aliexpress, Amazon, Ebay).Owing to the different product configuration and models, their FAQ may not apply to products purchased on other websites, so maybe your problems couldn't be fundamentally solved. In my experience, if you want to purchase a quality carlinkit 4.0 with an affordable price, you can get some professional answer from FAQ or mails to support@carlinkitcarplay.com, then most of your issues can be solved promptly.
Scenario five: get updated tracking information often.
I had some good shopping experience in purchasing the dongle from this store, it came from some period that I was concerned about the logistic information, the staff in the store always kept on telling me the updated information in advance with nice manner via the mails, so that is the reason why they left me a good impression.
To sum up,I highlight the product and service of carlinkit 4.0 from carlinkitcarplay.com not only for its efficient response from the support team, but also because of its good quality and the tangible benefits from the change bringing to my life, so there are five practical thoughts to the adapter in my heart, do you want to seek for a positive change in your life? This would be a good start.