Last year, I used a product which was called CARPLAY2air , I had thought it would work pretty well and it enabled me to use CarPlay wirelessly. However, I soon found that the product did not work as intended. Fortunately,I found an alternative product called CarlinKit 4.0 in this website https://carlinkitcarplay.com/. 
At the beginning ,I doubted about the compatibility of the product with a variety of vehicles as well as the quality of the support from the company,which led me think that the technical support team should check it out for me. Then it comes to the following steps.
1.CarlinKit installation.
When I first got contact with the technical support team on the website. They asked me about the model of my vehicle and then tested the CarlinKit 4.0 in my 2021 Subaru Crosstrek, which was listed as a compatible vehicle on the CarlinKit web site, as well as an iPhone XS. And the CarlinKit unit comes with a User Guide but it is hardly needed. In order to install the device, the technical support team asked me to connect the USB-C end of the supplied cable to the unit and plug the USB-A side into the port in my vehicle. Later the CarlinKit web site made it clear to reinforce the point that this unit DOES NOT add CarPlay to my vehicle and I should have CarPlay installed in the car in order to get this product work.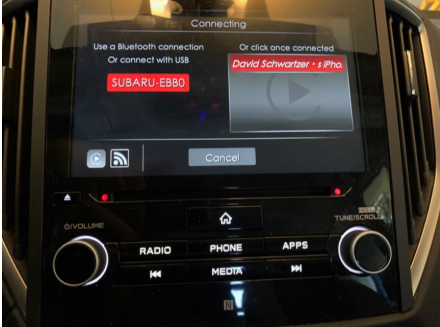 Almost immediately, the CarlinKit booted up and I saw the "Connecting": screen on my dashboard screen.
For reasons I initially don't understand why I had an issue getting the unit to connect immediately. It was clear that the unit was trying to connect as the connection screen would show connected but then it immediately dropped the connection. This process went into a look for a minute or two before I stopped it. After that, I disconnected the CarlinKit unit, restarted the car and reconnected the CarlinKit and this time, the connection went through without any issue. From that point on, I didn't have any issues with the connection.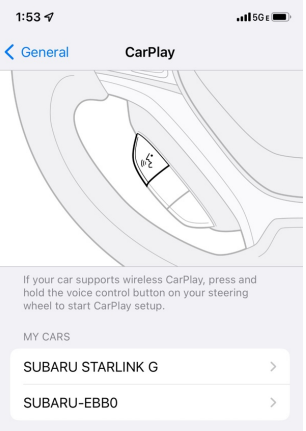 With the unit now connected, I looked at my iPhone CarPlay screen and saw there was now two connections. The Subaru Starlink G connection is for the original wired CarPlay connection,and the Subaru-EBBO is for the CarlinKit wireless connection.
I also had two Bluetooth connections with similar names but I was surprised to see that while my wireless CarPlay was working, both Bluetooth listings were Not Connected. In looking at the CarlinKit FAQs and checking with the staff at website, support@carlinkitcarplay.com. I have learned that CarlinKit uses Bluetooth to establish the original connection and then negotiates a hand-off to a Wi-Fi network that the unit creates.
Eventually, I was surprised at how well this worked. The hand-off between Bluetooth and Wi-Fi was seamless and once the connection was made, it was rock solid.
2. CarlinKit – Test Results
Now I have been using the CarlinKit wireless CarPlay adapter for several months, I have not had any issues during the intervals. There is no difference in the CarPlay screen and all of our applications were available and worked as expected.So it is indeed a really impressive practical product.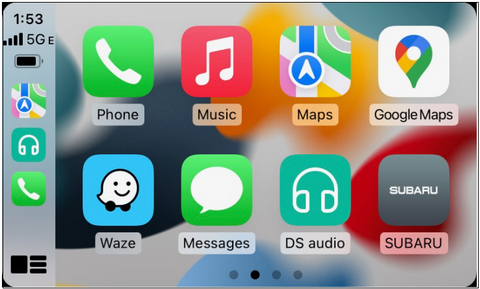 Even using Siri was effortless. Because I was able to ask Siri for directions while driving and they popped up on the screen in a few seconds, then I have to admit that I originally questioned whether a wireless CarPlay connection was needed, since I only really used CarPlay for long distance trips. Having now,with the help of the support team,I used it wirelessly and I found that I use it much more and take advantage of applications I rarely used before,which really promote my driving experience and boost my well being in my journey.
Having now tested the CarlinKit 4.0, I think I have already found a quality product and a quality company to make wireless CarPlay, which is a reality in my vehicle, so i really think it is worth buying.
In the following website, I can see a lot of reviews about this product, so I feel really happy to buy such a user-friendly product,very practical.https://carlinkitcarplay.com/products/carlinkit-wireless-adapter-for-factory-carplay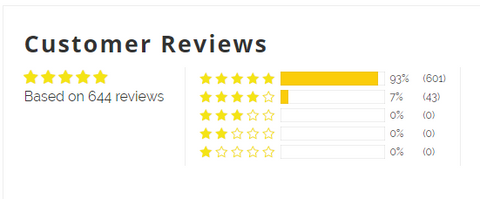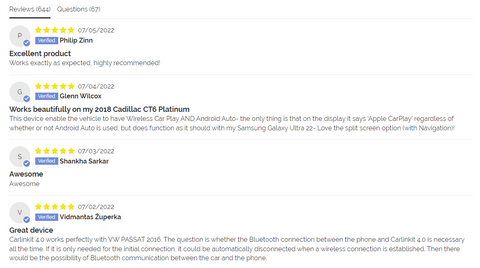 Carlinkit 4.0, it makes wired Android Auto wirelessly, and convert wired apple carplay to wireless, so I just need to turn on my Phone WIFI and Bluetooth,Wireless Android Auto or Apple Carplay will be connected Automatically. In fact,it works pretty well. Plus, the price is affordable, so that is the reason why i choose it and it also calls on me to take action for my better life.