Whether you have below troubles in the life?
When you are going to get out for work or shopping in some short intervals, hoping to

enjoy a safer and convenient driving environment

more easily, but it is always a headache when you face the

lines twisting in chaos

,

phones charge very slowly

and they are easy to

generate more heat

when it is connected with dashboard in USB cables.Most importantly, when you get off the car, it is more likely for you to

forget your phone in the vehicle

and have to pick it up again when you are stepping towards your home, indeed wasting a lot of time , a few smarter gadgets here can help you solve all of these problems.

It consists of three products, there are

Carlinkit Android 9.0 AI Box((T-box),Carlinkit Android 11.0 AI Box(T-box mini) as well as MMB Android 11 Mltimedia AI Box.
What is the Benefits of Carplay AI Box?/ Why do we need these practical AI box?
They are

supportive to Android System

, you can therefore

install any Apps in Google Play Store for entertainment.

It includes

simple plug and play senseless wireless transmission function

but is not limited to Built- in GPS, online map & real-time voice broadcast, online theater for watching videos on Youtube , Netflix, Tiktok etc.
The

similarity and difference between Carlinkit Android 9.0 /11.0 Smart AI Box can be presented in the following aspects.
No matter you choose Carlinkit Android 9.0 or 11.0 AI box, Carlinkit AI box has the capacity to

expand a series of Android system platforms through USB interface in the car so that it can support the installation of Apps as well as 4G Cellular, Built-in GPS for navigation, WIFI, Bluetooth, and phone functions such as answer and making phone calls, super convenient for car-lovers to use them.

It is totally free to support the installation of Android App to

achieve better audio-visual entertainment and navigation functions. To be specific, when you go out for meals with family members, probably you would come across some traffic jams and your kids would cry for the boring time on the road, so it is time for you to show some interesting films in the screen to capture their attention to stop their crying.
Apart from that, Carlinkit Android 9.0 and 11.0 Smart AI Box, make the most of interconnection access of mobile phone to support wireless CarPlay and wireless Android Auto functions. For example, if you have the wired apple CarPlay, then you can download the Android Auto app from Google Play or plug into the car with a USB cable and download when prompted. Then turn on your car and make sure it's in park. When unlocking your phone's screen and connect using a USB cable, you can give Android Auto permission to access your phone's features and apps, later you could use your Android phone to pair the Bluetooth in the Android auto to get the flawless wireless connection perfectly, once you have the initial startup connection, it would get fast and stable connection automatically. Of course, the products only work for vehicles with factory Apple CarPlay, so before you use it, it is necessary for you to

check the compatible list before purchase

.

In addition, regarding the

difference

, it mainly lies in their

appearance and storage capacity

, the pictures below will elaborate it clearly.
Actually,T-box is a little thicker than T-box mini( which is a new-multimedia video box support wireless Carplay and wireless Android auto).T-box mini has a slimmer design that saves space in the car.
4. On top of that, T-box runs on Android 9.0 and accepts the expandable memory 128GB,

while T-box mini is with an

eight-core Qualcomm processor chip, accepting memory with 3GB RAM + 32GB ROM,

so their capacity varies.
5. 
Besides, T-box mini have a better media video function contributing to run on Android 11.0 operation system,a upgraded version of Android 9.0, so users would have a better audio-visual entertainment.
The last product refers to MMB Android 11 Mltimedia AI Box.
      1.What is MMB AI Box?
It is a plug & play multimedia device that enables wireless connections  with Carplay/Andorid Auto.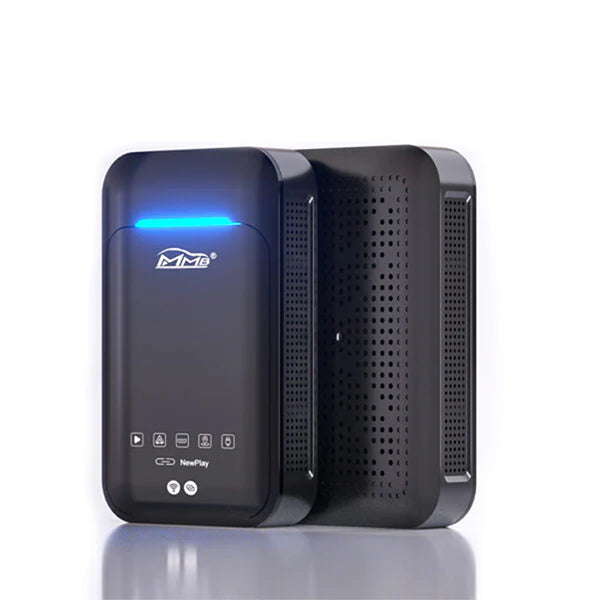 2.What it features for ?
It serves a unique feature which

supports an HDMI interface

, so it contributes to multiple software download from Google play store. It provides a better likelihood for you to enjoy music play or watch videos to get better visual or audio experience as you like.         

Meanwhile,

cars or any devices with HDMI input like computers and TV screens enables you to

have an easy access for massive film and television resources

from YouTube, Netflix, and Live Shows in your car.  
To sum up, the Carplay AI box ( T-box/T-box mini) is user-friendly for the plug&play function( no additional installation costs), Carplay split screen function is easy for showing navigation and music player at the same time no need for switching the interface back and forth in the dashboard, saving a lot of time and making the long journey interesting and effective. T-box mini is more thinner than T-box, easy for carry around and also keep all of the functions of T-box.      
The MMB AI box characterizes by the HDMI interface, which is conducive for a large amount of software download from google play store, users therefore enjoy a wonderful experience for recreation no matter short trips or long journey with family members.
But it is important to note that all of these adaters only work for vehicles with factory Apple CarPlay.